High Vacuum exhaust system WOLF (central)
APPLICATION
Direct extraction of welding and grinding dusts
up to 20 connectors for suction hoses
powerful and versatile
TECHNICAL SPECIFICATIONS
| | |
| --- | --- |
| Filter efficiency | ≥ 99,9% |
| Motor power | 13-75 % (acc. to local needs) |
| Extraction volume | ≥ 1.000 m³/h |
| Dimensions | 1.696 x 700 x 2.130 mm |
SCOPE OF DELIVERY
complete machine incl. HISTec® cartridge filter
power cable
Powerful and reliable
The HERR Wolf central high vacuum filter system is your first choice if you have to connect more than three torches. Same as the mobile Wolf it uses HISTec®ePTFE filter cartridges in combination with the HiRoto®H-type rotary back flush nozzle. Two cartridges of 10 m² each ensure an efficient cleaning (99.9%) of particulate matter ≥0.1μ. Cleaning is automated and can be executed during operation. Depending on your application the Wolf high vacuum system can be configured to connect up to 20 welding torches.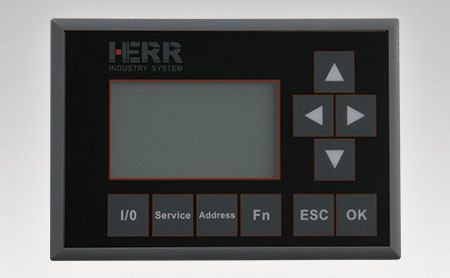 Intelligent control
The central suction systems from HERR using Siemens control and a specially developed software from HERR.
All important functions and messages of the control are displayed on a LCD screen. Important areas are protected with a password to prevent accidental deletion or change of parameters. The comfortable control simplifies operation and provides important instructions for maintenance and problem diagnosis.
Certification by IFA
The German Institute for Occupational Safety and Health (IFA) confirmed that the HISTec® ePTFE coated cartridge filter, filter welding and cutting particles of size 0.1 microns.

The filter efficiency is up to 99.9%.
HISTec® filter cartridge
The filter material of the ePTFE coated HERR filter cartridge is folded like the bellows of an accordion. The distance between the folds is consistent and is fixed by gluing of the filter in the bottom and lid. The folding angle of filter cartridge is less than 2 °, thus provids an optimum of filter surface with high efficiency airflow. 
Automatic filter cleaning by HiRoto® H-nozzl
The rotating HiRoto® H-nozzle ensures the automatic cleaning of the filter cartridge.
The HiRoto® H - nozzle is the perfect complement for the ePTFE coated HISTec® cartridge filters because it allows a gentle but complete cleaning of the cartridge. In case the filter is dirty, the system starts the cleaning process automatically. According to our experience the filter exchange is needed only after 3 - 5 years! 
Parts and accessories
HISTec® filter cartridge
930101 HISTec® ePTFE coated high efficiency filter cartridge