Inhouse research & development department for extraction technology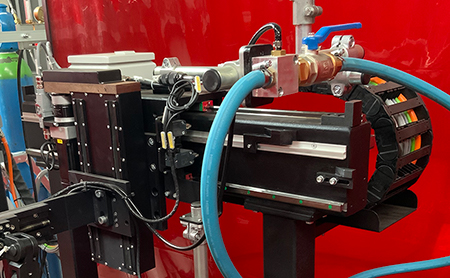 In many manufacturing companies it is now a common practice to purchase individual components for their own products. This sometimes happens at the expense of quality. As a manufacturer of extraction systems, however, we at HERR have our own research and development department at the Burbach location. This means we are always on the safe side when it comes to quality.
The five-member team around development manager Jens Dallwitz conducts customer project planning and product adjustments for the European market. Because the laws regarding health and safety at work are stricter than, for example, in Asia, it is a great advantage to be able to test product components in-house and adapt them accordingly. Especially since welding smoke was classified as carcinogenic for humans in 2018 – as identified by the International Research of Cancer, IARC – the situation has worsened for manufacturing companies. The requirements for a healthy workplace are now even more in focus.
Target: little energy consumption, high efficiency
In our own welding test bench at Burbach, real welding smoke emissions can be generated and then extracted and separated – with the aim of further optimizing these processes with the lowest possible energy consumption and the highest possible efficiency. For this purpose, volume flow measuring sections in the form of very large pipes for measuring air volumes were also set up. Further tasks of our research and development department are checking machine concepts, preparing risk analyses and making adjustments for the European market. Incidentally, the controls for the extraction devices are also developed in Burbach. The quick and easy filter change with the so-called bayonet lock is also due to a proprietary development.
At HERR, we focus on efficient, reliable air filtration, which is also reflected in our mission statement "Reliable Air Filtration". Every industrial company needs healthy workplaces, and HERR extraction systems provide the well thought-out equipment for professional occupational safety.
We are very proud of our engineering team, because everyone puts a lot of energy and personal interest into their work, which you notice anew every day.