Growing demand for fume extraction technology – worldwide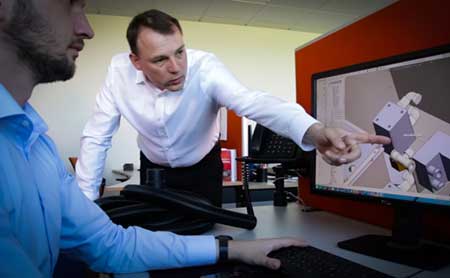 Every company needs productive and healthy employees. Especially in the manufacturing industry, where fumes, gases, dust etc. are inevitably generated, it is necessary to deal with the increasingly strict guidelines and limit values. If the equipment is not retrofitted or upgraded accordingly, an entire production area can quickly be shut down. Therefore, it is all the more important to have a reliable partner who specializes in exhaust air purification systems and filtration technology and who ensures that the specified regulations are complied with. We, at HERR Industry System GmbH, ensure clean air during welding and cutting. Thus, we make an important contribution to occupational safety.
Filter »Made in Germany«
Especially when it comes to health and safety at work, nobody should compromise and rely on know-how and quality – and HERR has been standing for this since 1961. Some of our extraction systems have a W3 approval for stainless steel applications. Our fume extraction systems are all equipped with a special filter that even absorbs particles in the nano range. These fine dusts penetrate into the alveoli of the lungs, where they are deposited and can cause cancer. In contrast to other manufacturers of exhaust air purification systems, we manufacture the core piece of HERR extraction systems – the filter cartridges – by ourselves, instead of relying on cheap imports. In this way we guarantee that dust particles of all kinds are reliably absorbed and filtered from the ambient air.
Increasing employer attractiveness
In addition, one thing should not be ignored: A healthy work environment generally plays an important role in the search for new employees! Many professionally qualified employees will retire in the next few years. They leave a gap that is difficult to fill. The competition for skilled workers has long been ongoing – and they accept contracts with companies that offer a good and healthy work environment. Those who positions themselves as employer who focus on the health of their employees are at the forefront of the competition for young talent.