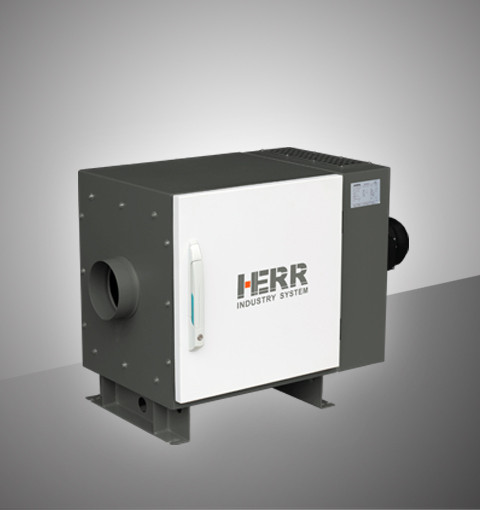 HOFM - mechanical oil mist filtration
Suction device for oil mists with mechanical filter
HERR oil mist filters focus on removing oils and contaminants from the air in the work place environment to protect the health of employees.
HERR oil mist filter systems are divided into two classes, mechanical and electrostatic filtration systems. These two types are best way to deal with water-based or oil-based exhausts. For exhausts of varying oil content or composition, selecting the correct filters is important. Mechanical and electrostatic filters are suited to different concentrations and conditions of oil mist.
HERR oil mist filter systems have modular designs that allow for rapid expansion, while the controlling costs at a minimum.
TECHNICAL SPECIFICATIONS
| | | |
| --- | --- | --- |
| | HOFM1000 | HOFM2000 |
| Extraction volume | 1.700 m³/h | 2.200 m³/h |
| Motor power | 0,75 kW | 1,5 kW |
| Power supply | 230/400 V / 50Hz | 230/400 V / 50Hz |
| Filter effectivity | ≥ 99% | ≥ 99% |
| Noise level | < 68 dB(A) | < 68 dB(A) |
| Dimensions | 1.059 x 505 x 682 mm | 1.010 x 655 x 832 mm |
| Weight | 75 kg | 95 kg |
The clean solution for CNC machines
HOFM HERR oil filter mechanical oil mist filter system has a modular design that is easy to install to other systems. Our systems are robust and can operate in harsh environments. To meet customer requirements the operating fan is very quiet. Vibrations and sound are minimal such that the system can be installed directly on top of other equipment (such as CNC grinding milling machines).
According to different operating conditions, the filter systems configuration can be modi-fied to control various types of fumes, adjustable to the air flow, and control over the fan speed. Changes to the working conditions can be resolved by easy to do modifications to the internal filter cartridges.
HOFM mechanical oil mist filter systems are available in two sty les; the individual machine systems or large central filter systems. Single machines are ideal for 1-2 sets of processing equipment. These systems produce low vibrations and can be directly fixed to equipment. For large fume exhausting tasks, central systems are best suited. Central systems are a combination of multiple stand-alone filter modules consolidated together and powered by one or more large fans. This design is ideal for processing the exhaust of multiple work stations or in a workshop where many pieces of equipment share the same exhaust system. The systems size can be customized in size according to the processing equipment or growth of the reqired air volume needing to be processed.